Best Store Assistant Jobs Chandigarh


TAKE THE CHALLENGE



Jobs in 2011: More than 5 lakh jobs: theplacementguru of jobs coming our way .
The Placement Guru - is an World Wide and Human Resource Consultancy firm. The organisation is an Human Resource Consultancy - that caters to people and people-related services for any industry. We provide recruitment assistance with an aim to enhance human resource quality of our client.

0172-4008569
Store Assistant Jobs Chandigarh

Desired Candidate Profile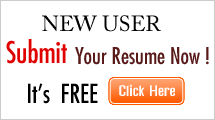 Qualification: Any graduate with 2 to 5 years of experience, Package – 2.4 Lacs
SAP is mandatory.
Experience: Material Inbound, Outbound and Billing
We prefer a local candidate.
Country: India
State: UT
City: chandigarh
Job type: Full-time