Best Jobs
Chandigarh
TAKE THE CHALLENGE
Jobs in 2011: More than 5 lakh jobs: theplacementguru of jobs coming our way .
The Placement Guru - is an World Wide and Human Resource Consultancy firm. The organisation is an Human Resource Consultancy - that caters to people and people-related services for any industry. We provide recruitment assistance with an aim to enhance human resource quality of our client.

0172-4008569
Data Entry jobs Chandigarh

Data Entry Operator Job Description:- Freshers - Education: BA - Excellent communication skills Desired Candidate Profile Candidate should Have Good Typing Speed. Shall Be Thorough With Use Of MS Word & Excel .Ability to rectify misplaced words & sentences, Ability to perform assigned work independently. Experience Required: 0 - 1 Years Education Required: UG - Graduation Not Required PG - Post Graduation Not Required Company Profile gowebworld Web solution based in Chandigarh, is a leading website development company having a unique web development providing in-depth analysis and services in the web design and web development .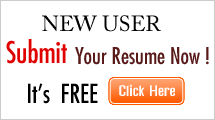 Country: India
State: Chandigarh
City: chandigarh
Salary: 4500-5500k Pm
Job type: Full-time/Part Time